just this……in all its simplicity……welcoming what is here already……
not coming……not going……obscured even by seeking……
So we meet in the paradox of apparent teachings, retreats, trainings or gatherings, to celebrate and explore this nameless presence that we are. At first, there is the tendency to accentuate the myriad of practices the yoga tradition has developed, to focus on concepts like nondual, true nature, awareness, self-inquiry or other-inquiry.
But all this activity eventually leads us to a giving up. And in this surrender what is revealed is seen to be what has always been here, before the search began, during its full intensity and after its cessation. The task turns out to be ceding to stillness, and in that stillness the recognition of just this.
Falling back and resting in what is so familiar that it has been overlooked during all the body sensing yoga, during all the pranayama, all the yoga nidra and amidst all the dialogues, amidst life itself, we find our self simply sinking back into just this.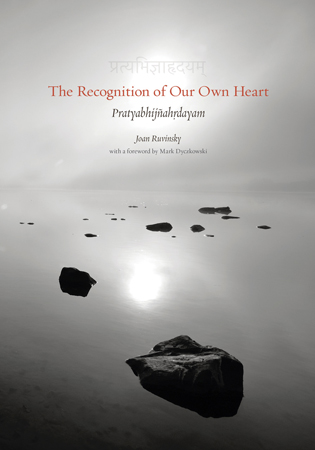 the recognition of our own heart
In this interpretive translation of and commentary on the Pratyabhijñahrdayam, one of the foundational texts of Kashmiri Shaivism, Joan Ruvinsky conveys the richness and incandescence so characteristic of the lineage without losing sight of the last 400 years of philosophical inquiry, spiritual revelation, and scholarship. Part poetry, part guidebook, part art, The Recognition of Our Own Heart invites you into discovery of the unknown — living directly, moment to moment, in the mystery.
pathless yoga / body sensing / kashmir yoga
Call it what you will. It is a nondual approach to yoga offering quiet, gentle, non-volitional movement as a gateway to our inherent spaciousness.
A simple, body-centered meditative technique practiced while resting comfortably, inviting inquiry into to one's true nature.
spring 2020 class schedule
| | |
| --- | --- |
| tuesday: |   |
| 6:30 – 7:30  pm | meditative yoga |
| 7:45 – 8:45 pm | yoga nidra |
|   |   |
| wednesday: |   |
| 10 -11 am | yoga nidra |
| 11:30 – 12:30 | meditative yoga |
|   |   |
| thursday |   |
| 8-8:45 am | *open sitting |
|   |   |
8-week session begins April 7 at 5425 Park Ave. (Hopefully!)
BY REQUEST OF THE QC GOVERNMENT, ALL CLASSES ARE CANCELLED UNTIL FURTHER NOTICE.
| | |
| --- | --- |
| Tuesdays | May 21, 28 and June 4, 11, 18, 25 |
| Meditative Yoga | 6:30 – 7:30 PM |
| Yoga Nidra | 7:45 – 8:45 PM |
| | |
| --- | --- |
| Wednesday | May 21, 28 and June 4, 11, 18, 25 |
| Meditative Yoga | 6:30 – 7:30 PM |
| Yoga Nidra | 7:45 – 8:45 PM |
When we say that we feel "vulnerable," the word describes a set of sensations. In this practice we explore the very human experience of vulnerability
Listen »
silent, residential mini-retreat
montreal april 17-19, 2020
Intimate silence for almost 48 hours to unplug, practice and just be.
CANCELLED? POSTPONED? Pending further information. Check back.
Friday after supper through Sunday before lunch.
$230 includes tuition, vegetarian meals* and accommodation.
Minimum 4 people, maximum 8.
*Includes breakfast on Saturday & Sunday and dinner on Saturday.
Please bring your own lunch for Saturday.



nurturing the sacred feminine: 3-day rereat for women
columbia mo &nbsp &nbsp&nbsp&nbsp&nbsp&nbspsept, 2020 date TBA
Co-led with Naki (Kim) James
Details forthcoming!
the recognition of our own heart:
a weekend adventure in practice and study
Boise, ID  2020 dates TBA
The study of a text is also the study of ourselves. The Pratyabhijñahrdayam will be used a springboard for introducing and discussing the non-dual philosophy of Self-recognition in Kashmir Shaivism. No experience with text study is necessary, simply an interest in understanding Consciousness in its play as ourselves.
If you would like to receive occasional emails from Pathless Yoga with information about upcoming retreats,
or with poetry, musings or links to recorded teachings