meditative yoga / pathless yoga / body and breath sensing / kashmir yoga
Call it what you will.
It is a nondual approach to yoga offering quiet, gentle, non-volitional movement as a gateway to our inherent spaciousness.
Through guided movement, sensing body and breath, we inquire into the true experience of the body, free of concepts or images, softly tuning it to recognize its vibration with the deep current of life.
Listening is at the heart of the practice.
Nothing to improve. Nothing to change. Nothing to accomplish. No experience, skill, discipline or flexibility is required; simply an attitude of playful curiosity.
yoga nidra
(also offered in individual format)
Resting in stillness, we listen deeply for what most wants to be seen, felt and heard. Meeting ourselves just as we are, tensions, emotions and concepts that are no longer useful may be released, revealing our natural state of transparency.
Yoga nidra is a simple, body-centered meditative technique practiced while resting comfortably. Literally "sleep of the yogi", it is an ancient Tantric Yoga practice of deep relaxation and guided meditative inquiry that releases negative thought patterns, calms the nervous system and helps one to develop the capacity to be with whatever life presents. It is also an experience of inquiry designed to facilitate recognition of one's essential nature.
spring 2020 class schedule
| | |
| --- | --- |
| tuesday: |   |
| 6:30 – 7:30  pm | meditative yoga |
| 7:45 – 8:45 pm | yoga nidra |
|   |   |
| wednesday: |   |
| 10 -11 am | yoga nidra |
| 11:30 – 12:30 | meditative yoga |
|   |   |
| thursday |   |
| 8-8:45 am | *open sitting |
|   |   |
8-week session begins April 7 at 5425 Park Ave. (Hopefully!)
BY REQUEST OF THE QC GOVERNMENT, ALL CLASSES ARE CANCELLED UNTIL FURTHER NOTICE.
| | |
| --- | --- |
| Tuesdays | May 21, 28 and June 4, 11, 18, 25 |
| Meditative Yoga | 6:30 – 7:30 PM |
| Yoga Nidra | 7:45 – 8:45 PM |
| | |
| --- | --- |
| Wednesday | May 21, 28 and June 4, 11, 18, 25 |
| Meditative Yoga | 6:30 – 7:30 PM |
| Yoga Nidra | 7:45 – 8:45 PM |
$135 for 8 weeks, pre-registration
drop-in $20/class
*open sitting – no charge
To register, call Kathleen at 514-885-6841 or email
silent, residential mini-retreat
montreal april 17-19, 2020
Intimate silence for almost 48 hours to unplug, practice and just be.
Friday after supper through Sunday before lunch.
$230 includes tuition, vegetarian meals* and accommodation.
Minimum 4 people, maximum 8.
*Includes breakfast on Saturday & Sunday and dinner on Saturday.
Please bring your own lunch for Saturday.
nurturing the sacred feminine: 3-day rereat for women
columbia mo &nbsp &nbsp&nbsp&nbsp&nbsp&nbspsept, 2020 date TBA
Co-led with Naki (Kim) James
Details forthcoming!
the recognition of our own heart:
a weekend adventure in practice and study
Boise, ID  2020 dates TBA
The study of a text is also the study of ourselves. The Pratyabhijñahrdayam will be used a springboard for introducing and discussing the non-dual philosophy of Self-recognition in Kashmir Shaivism. No experience with text study is necessary, simply an interest in understanding Consciousness in its play as ourselves.
Individual sessions are tailored to meet your interests and may include Yoga Nidra in dyad form, Meditative Yoga, or a combination of both.
Similar to the group practice of yoga nidra, but without the linear structure necessitated by practicing with others, we simply meet as two humans, being together, in open listening, allowing space for whatever is seeking to emerge.
We begin our work with the basic assumption of our inherent wholeness,
not trying to fix or change anything. Without agenda, we explore body sensations, emotions and beliefs, listening deeply to what most wants to be seen and heard, meeting ourselves just as we are – whether stuck, resistant, curious, anxious or depressed. In true welcoming, whatever arises resolves itself and the next step becomes perfectly clear.
By appointment. Call Kathleen at 514-885-6841 or email.
$90 for 90 minutes.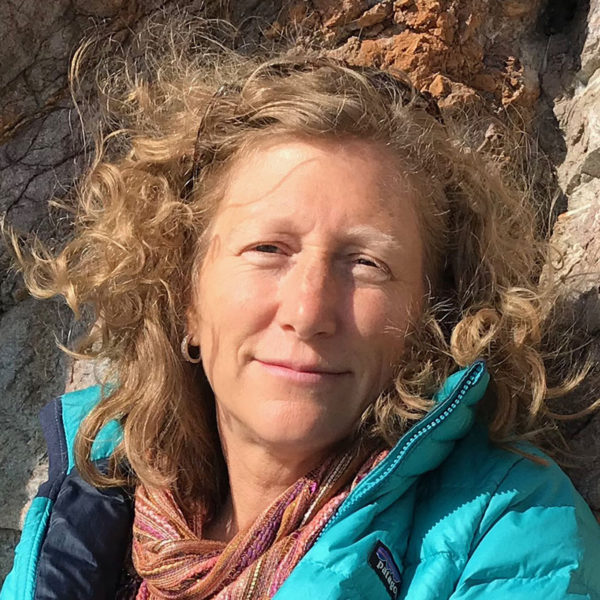 Profoundly influenced by the non-dual teachings of Jean Klein as offered through Joan Ruvinsky and Éric Baret, Kathleen Knipp shares her love of Pathless Yoga body and breath sensing, the texts of Kashmir Shaivism and iRest® Yoga Nidra in Montreal and elsewhere in Canada and in the US. Having assisted in the development of the iRest® Yoga Nidra teacher training curriculum under the direction of Richard Miller, PhD, she acts as a supervisor for its certification candidates and maintains a private practice offering dyadic yoga nidra.
A former resident of Kripalu Center for Yoga and Health, an E-RYT500 yoga teacher and co-founder and former director of Global Yoga Journeys, Kathleen has been fully absorbed in the study and practice of yoga for more than 20 years. She pursues her bliss by chanting, hiking and back-packing, preferring wandering in the woods and exploring the meditations from the Vijñâna Bhairava over most sorts of formal practice.