Jaw-dropping wonder, in unfettered freedom, the cause of the universe is This.
– verse 1 of the Pratyabhijñāhṛdayam (Ruvinsky, et al.)
This entire universe is nothing but a flash… but within it, we go through so much.
– Gurumayi
So much. And in a flash, it is all gone. Poof.
Soham Soham Sivoham Sivoham. I am Siva. All this is Siva. With mala in hand, I voice the ancient mantra, orienting myself toward universality. All this is Siva. All of it. Without exception.
I gaze at my windowsill, on which is scattered objects collected during my meanderings here in coastal British Columbia – an oyster shell, a Western red cedar branch, an assortment of winter twigs gathered to draw in my field journal and used to identify these mysteriously exotic trees of the Pacific Northwest, the shoulder blade of a Black-tailed deer, slender yet sturdy, tinged green by a thin film of algae. Why was this mammal's bone mixed in with the pebbles on the beach? What caused its life to cease?
All Siva.
It is slightly more difficult to fathom that the fabricated items – the binoculars, the loupe, the clay cooking vessels handmade in a less industrialized culture, are, too, simply pure consciousness in form.
Outside the window, the Great Blue Herons begin to pass, flying westward in their evening ritual. Where do they come from? Where are they going? From where do I come? Where will I go? They silently soar directly by my 9th-floor window, not by the 8th floor, nor the 10th floor. Every night. In the far distance, an airline jet flies in the opposite direction. 
Then my gaze passes to the vase of violet and tangerine tulips. Are they dead or are they alive? Severed from their roots, they continue to drink, thirstily drawing up water through their hollow, delicate stems.
Next my eye falls on the photo of the man who died in the bed on which I sleep, from whose wife I sublet this apartment. I turn my head to the left to glance at the urn which holds his remains and I remember those of my own beloved, whose body withered from 130 pounds to 80 at the time of death, and was then reduced to an honest 4.5-pound bag of ashes, approximately 3.5% of what was once a living and breathing human form.
Tears of joy stream down my face and collect in the folds of my scarf. Jaw-dropping wonder… the first verse of all texts conveys the essence of the teaching and in the Pratyabhijñāhṛdayam we commence with jaw-dropping wonder, captured by the Sanskrit term camatkara. It is our capacity to experience beauty and awe, it is the highest nature of pure awareness. It is wonderment at the very existence of this incarnation, in response to the infinite variety of forms by which consciousness expresses itself. We are told by Kshemaraja, author of the text, that camatkara is the essence of the ground of being—cid-ananda-ghana, a mass of bliss and consciousness. It can occur in response to anything which is not resisted—to the frightening and repulsive, to the magnificence of wild peacocks sitting in the branches of a Giant Sequoia, or to the first sip of Chartreuse, or to a gout attack, or a train wreck. In things we find erotic, amusing, irritating, outrageous, and inspiring.
All of this is Siva.
It is so beautiful, so precious, so fleeting, this life. Jaw-dropping wonder…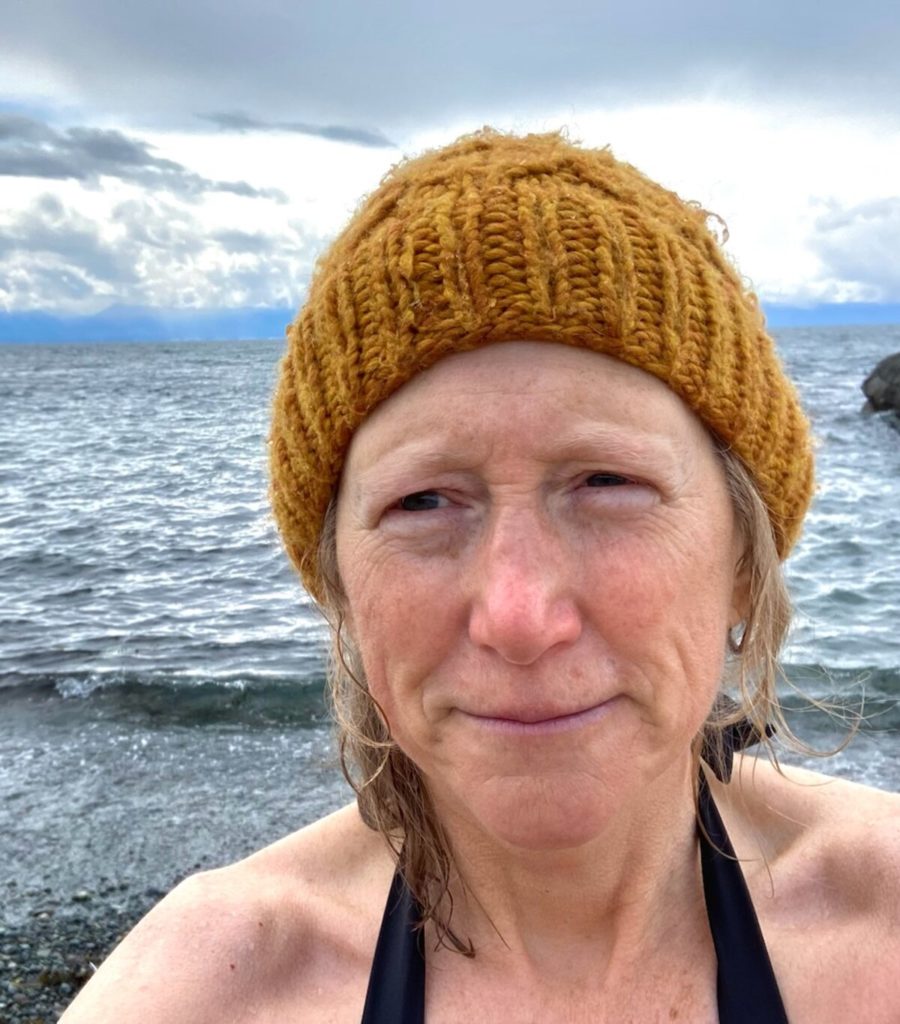 When she is not sharing nondual meditation practices, Kathleen Knipp enjoys cold plunging in the Salish Sea.